Trump is taking US down the path to tyranny (?)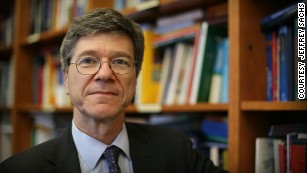 I rather like reading the writings of Leftist intellectual Prof. Jeffrey Sachs. He always sounds so calm and rational. But he is director of the Center for Sustainable Development at Columbia University so you know that he is also gullible and good at self deception. But he always puts up a plausible case for whatever he is pushing. He would probably convince most people who don't know the facts he leaves out. In true Leftist style he only tells half the story and runs very close to outright lies by what he leaves out.

I could challenge almost every sentence of what he writes below but I have no desire to clean out the Augean stables so will offer just a few comments on the first few paragraphs of his latest essay below.

How does he know that "Trump holds the grandiose belief that only he should rule America"? Does Sachs have a mind-reading machine?Is Sachs talking about the man who vowed to use his "pen and phone" to circumvent Congress? No. That was King Obama. Trump by contrast has been punctilious in wiping out regulations that tended to circumvent Congress. Trump is in fact very respectful of Congress.

Next we hear that Trump is good at keeping confidential the substance of sensitive negotiations? That is bad?

The next big laugh is that "Trump abrogated the Iran nuclear deal despite its unanimous support by the UN Security Council". The Security Council? How relevant is that? What about Congress? Congress did not ratify the so-called treaty so once again Trump is siding with Congress.

The next bit of Sachs deception is an outright lie: "Trump used executive authority without Congressional mandate to impose a travel ban on several Muslim-majority states". Congress HAD given Presidents that power years ago, a power that Obama used among others.

OK. One last bit of nonsense and I am done. "Trump changed the status quo regarding Jerusalem against the will of the UN Security Council and UN General Assembly." Once again Sachs quotes the United Nations instead of Congress. Trump was in fact simply obeying a law passed by Congress. Once again Trump went along with Congress rather than defying it. Sachs is talking a quite amazing heap of manure. It just keeps pouring out. He has got the truth exactly backwards. There is no truth in him. (John 8:44)
The United States was born in a revolt against the tyranny of King George III. The Constitution was designed to prevent tyranny through a system of checks and balances, but in President Trump's America, those safeguards are failing.
Donald Trump holds the grandiose belief that only he should rule America. Unchecked by cowed or complicit Republicans in Congress, Trump invokes executive authority to alter policies and practices long established by law and treaty.
Days after his summit meeting with Vladimir Putin, no one knows what the two autocrats agreed to, or even talked about -- not the President's top aides, nor the Pentagon, nor security establishment or Congress, never mind the rest of us. And in the midst of the ensuing uproar, Trump has invited Putin to Washington, without telling his top intelligence official and no doubt most other key aides and officials.
The list of one-man actions grows rapidly. Trump is single-handedly imposing hundreds of billions of dollars of tariffs -- that is, taxes -- on imported goods from key US allies and China, without any explicit or implicit Congressional backing.
Trump abrogated the Iran nuclear deal despite its unanimous support by the UN Security Council. Trump is in the process of imposing new and severe sanctions against Iran, including the cutoff of all of Iran's oil exports, against the international agreement with Iran and with no vote of Congress, presumably to try to topple the Iranian regime.
Not surprisingly, and perhaps as intended, Trump's drumbeat of belligerency triggered an ominous warning from Iran, and now an escalation from Trump, casting the increasingly ominous confrontation with Iran as yet another one-man Trump show.
Trump used executive authority without Congressional mandate to impose a travel ban on several Muslim-majority states; to announce the US withdrawal from the Paris Climate Agreement despite treaty-bound US obligations under the UN Framework Convention on Climate Change; and to change the status quo regarding Jerusalem against the will of the UN Security Council and UN General Assembly. Trump extended the stay of US troops in Syria without oversight or approval by Congress.
SOURCE