"Daddy's girl" in the era of Trump
Those who have been involved in it know it well enough but there is very little said either in the popular press or in the academic journals about the "Daddy's girl" phenomenon. So I think I need to give a brief outline of it.
What happens is that an unknown but probably substantial proportion of fathers absolutely adore their little daughters. And they express that in every way, including spoiling the little girl rotten. And the little girl laps it up of course. The two become bound in a bond of mutual love. It is in my mind the most beautiful human relationship there is.
So to take an example: The father comes home from work and as soon as he steps in the door the little girl runs to him with open arms. He snatches her up, gives her a close cuddle and then carries her further into the house where a mother sees two faces with big smiles on them. Since she loves those two persons she too smiles with pleassure. It is a happy homecoming.
I am sure that Leftists will deplore that example as "heteronormative", or whatever their latest neologistic jargon is, but they are the losers if they have never been part of that. It happens.
I also see fathers and little daughters coming into my favorite coffee shop. The daughter will cling to the father as both of them order and will then wind herself around the proud and happy dad when they sit down. You have to see it.
Having been part of such a relationship gives the girl confidence in her desirability and that is usually a long-term effect. It permanently gives the girl self-confidence and repose for all the rest of her life. And even after she has married and herself become a mother, she will at some times of stress go home to see "Dad". And when she sees his eyes light up as she enters the room, calm and reassurance will come over her. It may not solve her problems but gives her strength to bear them.
I was once talking to a mother who said that when her daughter's father came home, there was no-one else in the room for the girl but her father. She just ran to him on sight. I was concerned that the mother might be a bit put out by that so I said to her that the girl was lucky as that "Daddy's girl" relationship would give her strength and confidence for the rest of her life. The mother replied serenely: "Yes. I know. I was one too".
To my regret, I never had a daughter but I was very close to a beautiful step-daughter so I have some personal feeling for what that is all about.
Where does the mother fit in? Some may ask. I am afraid that it does make the mother the usual disciplinarian but the father can be a backup. If he told his little daughter that something "would make Daddy sad", that would be powerful.
So that brings us to the Trumps. To anyone aware of the phenomenon, Donald and Ivanka have an outstandingly strong "Daddy's girl" relationship. They dote on one another and wherever Donald is, Ivanka is usually no more than yards away, if that. They are as close to inseparable as they can reasonably be.
For me the picture below encapsulates best the relationship between the two. They were (of course) together at the big G20 meeting but the personal was not for a moment forgotten. A comforting hand is on Ivanka's shoulder saying "I am here". And she looks on with a relaxed smile at what is before her. (And what WAS the Japanese Prime Minister thinking?)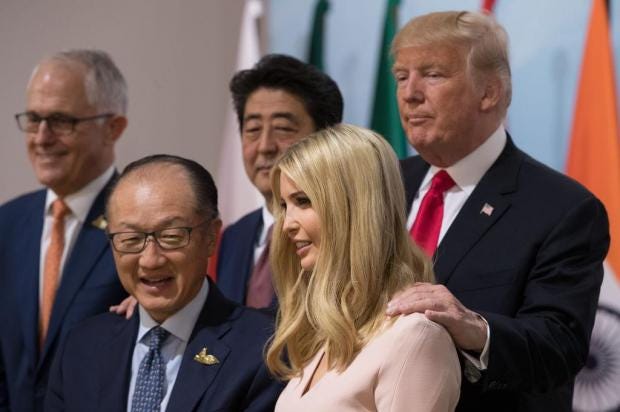 I think that loving relationship is thoroughly admirable And tells you much about Donald Trump. Had Obama had such a relationship, he would have been praised to the high heavens for it. But with Donald Trump it is totally ignored. I hope I am not the last to congratulate Donald on his outstandingly loving relationship with his daughter.
There has of course been much foul speculation about Ivanka and Donald as seen in the picture below when she was 15 years old. But it is just the girl being loving towards her Dad. Close physical contact is normal in that context.
There were events in my relationship with my stepdaughter that would have looked most alarming to an outsider looking in but everything was in fact completely innocent and known to be such by all the family.
The happy, poised and self-confident lady we see in Ivanka today is clearly NOT the victim of sexual abuse.
And I think the picture below shows how good they are for one-another. She is happy and he is relaxed as they walk along. It's a beautiful relationship.