What a pic!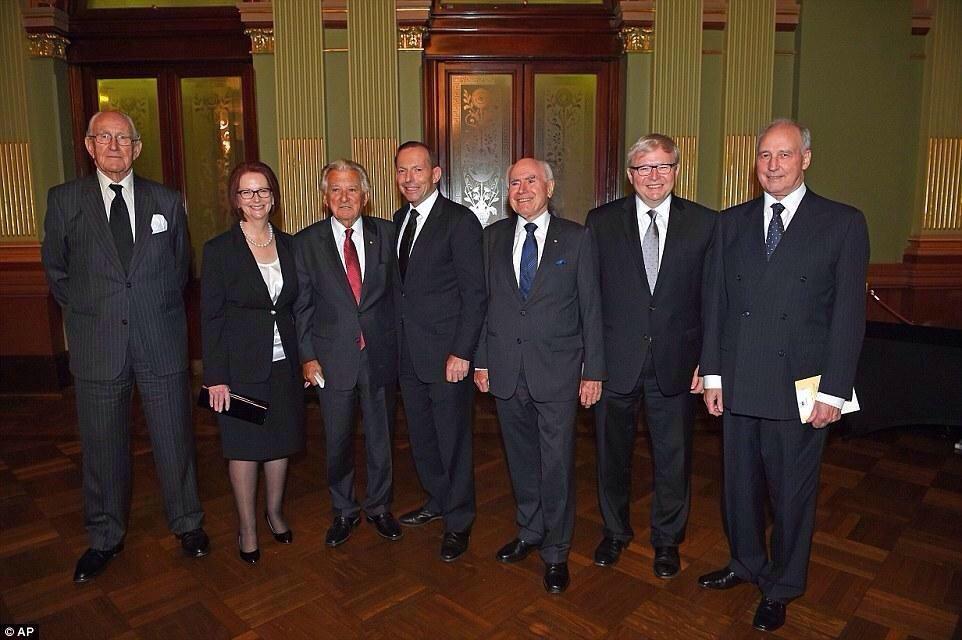 Former Prime Ministers at the Whitlam memorial service. Keating has bulked out
The photo also captured the imagination of social media, which focused on what appeared to be the careful division of political rivals – Julia Gillard and Kevin Rudd, Paul Keating and Bob Hawke, John Howard and Malcolm Fraser, all of them separated by a prime ministerial gap of three in the line up.
There were some rather sickening eulogies during the service, all with a notable lack of balance.
Noel Pearson's speech
was particularly praised. Let me take just one excerpt from that speech:
"In June 1975, the Whitlam Government enacted the Aboriginal and Torres Strait Islanders Queensland Discrimatory Laws Act. The law put to purpose the power conferred upon the Commonwealth Parliament by the 1967 referendum, finally outlawing the discrimination my father and his father lived under since my grandfather was removed to the mission as a boy and to which I was subject the first 10 years of my life."
Pearson neglects to mention that the referendum enabling Whitlam's legislation was pushed through by the conservative Holt government.
He also fails to mention that the old restrictions on Aborigines have to a considerable extent been re-introduced at the behest of do-gooders on both the Left and the Right: Bans on alcohol use in Aboriginal settlements and "income management" for Aborigines only. Whitlam destroyed what he didn't understand and put in nothing to replace it. So it has all been downhill for Aborigines since -- with soaring rates of alcohol abuse and the resultant abuse of Aboriginal women and children.
I could go on ...
In objecting to the media's praise of Whitlam, Andrew Bolt asked: "Will John Howard, a conservative who ruled four times longer and left the economy in wonderful shape, be given this massive and worshipful coverage?"
I think I know the answer to that