Italians: Sheriff Joe and Silvio Berlusconi
I want to put in a broader context the current outpouring of media hate against hero sheriff Joe Arpaio. Joe's parents originated from Lacedonia, an ancient town in Southern Italy and I want to suggest that there is much about him that is Italian.
I grew up among Italians and have the warmest feelings towards them. I see them as cheerful, hard-working, family-oriented, warm people who have an instictive irreverence for authority. Italians are notorious scofflaws. Just about everyone in Italy regards the law as an obstacle to be gotten around. They have their own personal and family-oriented values and have a healthy disrespect for the edicts thrown down at them by government. It would not be too far from the truth to say that most Italians regard even the Ten Commandments as the Ten Suggestions.
So you see where I am going there. Italy may be the most libertarian society on earth. Their "black" economy is certainly huge. It was their inability to raise much tax revenue that caused successive Italian governments to inflate the currency. The Lira was constantly being devalued. Now that they have the Euro, they borrow at an unsustainable rate instead. The Germans have propped that up so far but awareness of that puts the average German into a rage so who knows how and when that bubble will pop?
And a set of rules that are constantly being forced down all our throats are the onerous and inconsistent idiocies of political correctness. So it should be no surprise that most Italians don't take to political correctness at all.
A minor example of that was when the EU handed down an edict that government schools could not have religious imagery in them. But virtually no Italian could imagine a school without aids to contemplation such as a picture of the Blessed Virgin or the Sacred Heart of Jesus. That was just not done. I forget how it was gotten around but I gather that Italian schools still feature their holy pictures and statuary. And you can be in no doubt that NYC Italians will fiercely defend their statues of Cristoforo Colombo.
And the king of political correctness is without a doubt, Silvio Berlusconi, by far the most popular and successful Italian politican of the postwar era. Because of their individuality, Italians constantly depose their political leadership. Nobody impresses them for long. For a long time the average life of a Prime Ministership in Italy was one year or thereabouts. Then along came Silvio. He smiles a lot, is a little short guy, a media mogul and a billionaire. He was also once a cruise ship crooner. He would have been (and has been) laughed to scorn in countries with colder climates but to Italians he was a real Italian and many loved him for just that. So he had amazingly long runs in office as Prime Minister. He was Prime Minister for nine years in total, making him the longest-serving post-war Prime Minister of Italy.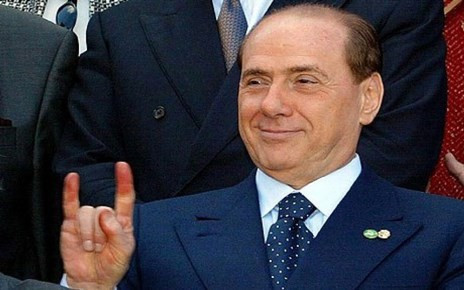 And his political incorrectness was legendary. He was constantly being accused by outsiders of "gaffes", some of which were jokes, some of which were simple truths and all of which were him speaking his mind at the time, political correctness regardless.
Time magazine
did a collection of some of them a few years ago.
His repeated expressions of admiration for the "suntans" of Africans would forever condemn him to the outer darkness of American politics but to Italians they were just humor. And there was also worldwide horror when he said to a female Italian doctor doing earthquake relief work that,
"I wouldn't mind being resuscitated by you"
. But the lady, being Italian, quipped back and insisted that he was just being gallant.
And so we come back to sheriff Joe. He did not at all like people strolling into his country uninvited and had no time for the politically correct view that they were simply "undocumented". And even under great pressure from the politically correct Obama administration he stuck by his values. He is a great Italian as well as a great American. And as for the media, how about a bit of cross-cultural sensitivity?