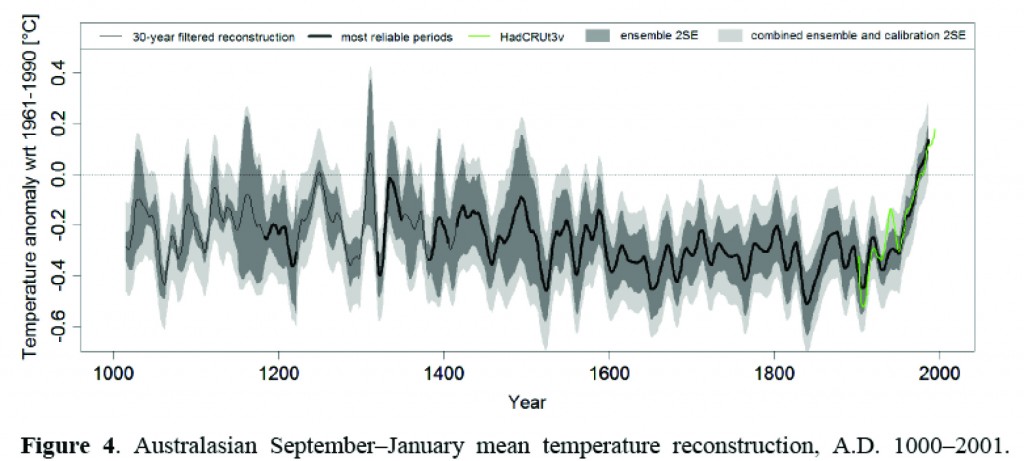 Warmist Eric Steig claim that the graph above demonstrates that the the late 20th century was unusually warm. Can you see it? I can't. I think it shows that the Medieval warm period was warmer. I had a previous laugh at the Gergis study on May 20. Below is what Steig says, for what it is worth -- JR:
In the Northern Hemisphere, the late 20th / early 21st century has been the hottest time period in the last 400 years at very high confidence, and likely in the last 1000 – 2000 years (or more). It has been unclear whether this is also true in the Southern Hemisphere. Three studies out this week shed considerable new light on this question. This post provides just brief summaries; we'll have more to say about these studies in the coming weeks.
First, a study by Gergis et al., in the Journal of Climate uses a proxy network from the Australasian region to reconstruct temperature over the last millennium, and finds what can only be described as an Australian hockey stick. They use an ensemble of 3000 different reconstructions, using different methods and different subsets of the proxy network. Worth noting is that while some tree rings are used (which can't be avoided, as there simply aren't any other data for some time periods), the reconstruction relies equally on coral records, which are not subject to the same potential (though often-overstated) issues at low frequencies. The conclusion reached is that summer temperatures in the post-1950 period were warmer than anything else in the last 1000 years at high confidence, and in the last ~400 years at very high confidence.
SOURCE